Coastguard: Four people rescued from sinking boat in Irish Sea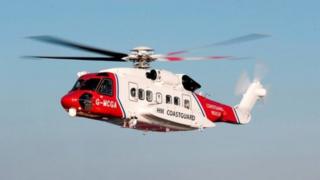 Four people, including a child, have been rescued after a boat began to sink between Northern Ireland and the Isle of Man.
Belfast Coastguard said it picked up a mayday signal from the boat at about 01:20 BST.
The vessel had been travelling from Glasgow to Conwy in Wales when it began taking on water.
RNLI from Peel in the Isle of Man said that the rescue involved two warships, three helicopters and a lifeboat.
Falling ill
A fishing boat from Kilkeel, County Down, was the first on the scene and stood by until rescuers arrived.
The boat, described as a converted fishing trawler, was stabilised and the helicopters and other vessels then stood down.
The lifeboat escorted the vessel into Peel harbour. A woman and the child are being treated in hospital after falling ill during the rescue.