Great British Bake Off: Andrew Smyth's parents speak of pride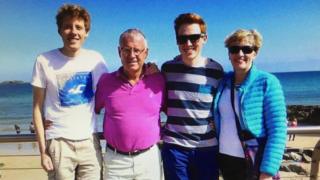 The parents of Great British Bake Off contestant Andrew Smyth, from County Down, have spoken about their son's "fantastic achievement" in the BBC baking competition.
On Wednesday night viewers saw the 25-year-old secure a place in the final of popular program.
Andrew is now the "last man standing" in the competition after Selasi Gbormittah left the famous tent.
He was crowned star-baker in the patisserie-themed semi-final.
Nigel Smyth and wife, Kay, told the BBC's Good Morning Ulster programme that they credit Andrew's success in the competition with his "keep calm and carry on" attitude in the face of pressure.
Mrs Smyth said: "He's the same person on television that we see at home.
"I don't think it's worth your while in Northern Ireland getting airs and graces, it's not the way people are here".
Mr Smyth said: "I think we're all taking a bit of credit, we certainly gave him a lot of encouragement as a family.
"But he's been away from home now for seven years, so a lot of the credit has to go to himself. It goes down to a lot of determination and creativity."
Andrew, 25, is a Cambridge University graduate and now works as an aerospace engineer in Derby.
While baking may be an unlikely hobby for an engineer, Nigel Smyth insists his son's career is an asset.
"He uses his organisational skills in his baking. Last night, his fondants at the end were precision.
"He just enjoys it. He is baking two or three times a week at the moment.
"The problem is there is a high expectation and everyone expects him to bring a bake to every event."
Tight-lipped on the final
But Andrew's parents remain tight-lipped on which of the three finalists have won - it will be screened next week.
Mrs Smyth said: "It's been very exciting, but it was filmed quite a while ago.
"We had more tension in the weeks Andrew was actually doing it and ringing us every week.
"We wouldn't want to spoil the excitement for anyone else.
"Everyone in Northern Ireland has been so supportive, every where we go people comment on it and say how much they've been enjoying GBBO. Its just been really nice to be a part of it."