'Alan Turing law': Call for gay and bisexual men in NI to receive pardons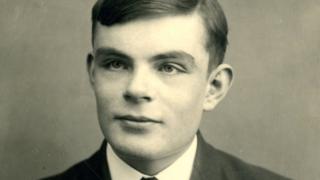 There have been calls for a law that pardons gay and bisexual men convicted of now-abolished sexual offences to be introduced in Northern Ireland.
On Thursday, the government announced that thousands of men in England and Wales would be eligible for the pardon.
The law, however, does not apply in Northern Ireland or Scotland, as justice is a devolved matter.
Stormont's Department of Justice (DoJ) has said it would consider the issue.
Campaign group, the Rainbow Project, has urged the Stormont executive to change the law.
The change to the law in England and Wales followed the pardoning of World War Two code-breaker Alan Turing for gross indecency in 2013.
Automatic
It was proposed as an amendment - dubbed "Turing law" - to the Policing and Crimes Bill by the Lib Dem peer Lord Sharkey.
Now, deceased people who were convicted of sexual acts that are no longer deemed criminal will receive an automatic pardon.
Anyone living who has been convicted of such offences could already apply through the Home Office to have the offence wiped from their criminal records.
But now, if the Home Office agrees that the actions are no longer an offence under current law, they will automatically be pardoned.
'Time to act'
The Rainbow Project met Stormont's Justice Minister Claire Sugden in August to discuss the law around historical convictions.
Its director, John O'Doherty, said it was "time for the assembly to act".
"The experience in Northern Ireland is that any of the inequalities that we have seen removed we've done so through court action, and even decriminalisation was another example of that," he said.
"What we don't want to see - in terms of the pardons and the removal of these historic convictions - is further court action being required by our community.
"It is time for our assembly to act, it is time for them to act immediately."
More than 60 men were prosecuted in Northern Ireland in the decade before homosexuality was decriminalised in 1982, the Rainbow Project said.
It added that some of those men are still living with a criminal record, something that it wants addressed urgently.
A spokesperson for the DoJ confirmed that the pardons will not apply in Northern Ireland, but said the minister would "consider this policy issue when forming policy priorities for the legislative programme in the current mandate."