Gold mining dispute between PSNI and Dalradian escalates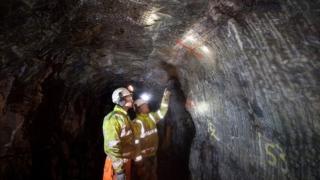 Northern Ireland's police service and a gold exploration company are seeking legal advice in a dispute over security costs at a Country Tyrone mine.
Police have billed Canadian firm Dalradian almost £400,000 for escorting explosives, but the sum remains unpaid.
The company argues that no other mining or quarrying operation in Northern Ireland pays for that service.
It has been exploring the feasibility of an operating mine in the Sperrin Mountains, near Gortin, since 2010.
Dalradian has the mineral rights to more than 120,000 hectares of land in Northern Ireland, including the Curraghinalt gold deposit.
The firm says Northern Ireland has the seventh richest undeveloped seam of gold in the world.
It hopes to submit an application for full planning permission before the end of the year and has already invested more than £56m in the project.
'Troubling prospect'
PSNI Chief Constable George Hamilton said: "To date, a total of £397,000 has been invoiced, however Dalradian are in disagreement with the chief constable's position on cost recovery.
"Both parties are seeking further legal advice and this matter is with PSNI's legal counsel. No monies have been received to date."
A spokeswoman for Dalradian Gold said: "There is a legal requirement in Northern Ireland for the PSNI to assess the need to escort the transportation of explosives. The form and manner of the escort is determined solely by the PSNI.
"Total investment into the project over the life-time of the mine is expected to be in excess of hundreds of millions of pounds, creating hundreds of jobs in the process."
Environmental protesters have campaigned against the development. Some local people are concerned about the impact of such a development on the community. Others welcome the jobs opportunities that this development might bring.
Gordon Best, spokesman for the Quarry Products Association Northern Ireland, said the idea of the PSNI charging companies was a "very troubling prospect" for the industry.
"If this is applied, operating sites in areas that are deemed a higher security risk by the PSNI and therefore requiring a higher PSNI presence will have greater costs and this could potentially create a regional imbalance for such extractive sites.
"Sites operating close to the border and therefore in possibly higher risk areas could become unviable and uncompetitive in comparison to their southern counterparts who are not subject to the same escort charges.
"Furthermore, many operators export their products into Great Britain and Europe and would face significant competitive challenges if these costs were to be applied."