Translink bus fire: Lurgan engine fire investigated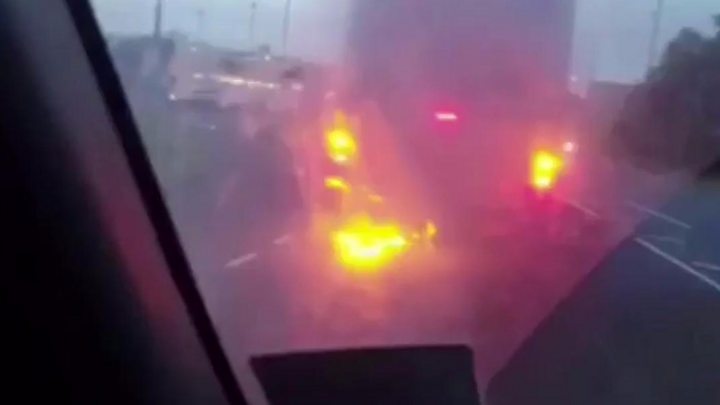 Translink is investigating an engine fire on one of its buses outside Lurgan, County Armagh.
The Ulsterbus was travelling between Dungannon and Belfast when the incident happened at about 07:45 GMT on Thursday.
A passing driver told the BBC that he flagged the bus down in order to alert the driver to the fire.
The driver and seven passengers were moved onto another bus to complete their journey. No-one was injured.
'Flames pelting out'
Gary McCoo was driving to work with a colleague, Andrew King, who filmed the dramatic footage of the bus on fire.
"We were just pulling off toward Lurgan and the guy sitting beside me says: 'Gary, that bus is on fire.'
"And all I could see were the flames pelting out of her so I started to flash and toot the horn at the driver to get his attention.
"We drove right beside him and he went to open the window. We said: 'Your bus is on fire! Your bus is on fire!'
"So we went round to the passenger door and the bus driver got out. He looked at the back and he just darted into the bus, ran upstairs and told everybody to get out."
Mr McCoo said he had been told on social media that smoke was seen coming from the bus about five miles before he flagged it down.
He added: "The bus driver got people as far away from the bus because we were scared of it blowing up.
"I asked the driver if there was a fire extinguisher and he said it was a bit late for that.
The fire was extinguished as the passengers were moved to safety.
"I can't believe people on the bus didn't smell it because the smoke was pelting out of it," said Mr McCoo.
A Translink spokesperson said "all safety procedures were put in place" following the incident.
The spokesperson added that the driver and passengers were taken off the bus safely, and transferred onto another bus to complete their journey.