'Eyesore' Christmas tree in Larne replaced after complaints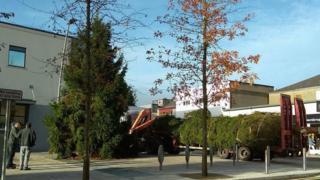 A Christmas tree in the centre of Larne has been replaced after complaints that it was an "eyesore".
It has been swapped for a more festive offering, ahead of the town's annual tree light switch-on ceremony.
Local people and councillors had taken to Facebook to cry bah-humbug about the "sad-looking tree."
It comes after a festive village tree in Bushmills was removed in 2014 after it was described as "one of the worst ever seen in the UK".
UUP councillor, Mark McKinty, posted a photo of the Larne tree on social media and said: "I'm all for recycling, but when your Christmas tree goes up looking like it's spent a few years on the compost heap, that is a bit much."
Angry comments were also left on the Mid and East Antrim Council's 'Larne Christmas Switch On' page.
Larne resident Ian Stokes, said "for many a year Larne has always been the laughing stock of local councils for their awful trees."
But Mid and East Antrim Council have proven their festive spirit by bringing in a brand new replacement before the local Christmas parade and light switch-on on Friday.
A spokesperson said, "Mid and East Antrim Borough Council has responded to concerns about the condition of the recently erected Christmas tree in Larne.
"Council officers carried out an inspection earlier this week and as a result it has been replaced."
TUV Councillor Ruth Wilson shared news of the replacement on Facebook, with one user replying, "glad to hear the tree is being replaced. The other one was an eyesore."