Aodhán Woods mother outraged after son's rapist has sentence cut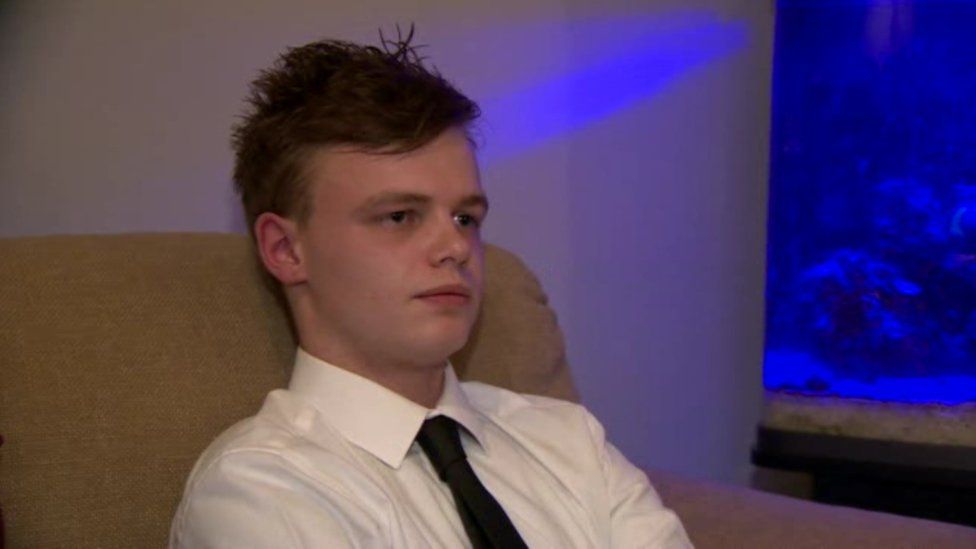 A young man who was beaten and sexually assaulted when he was a teenager, has spoken out after his attacker's prison sentence was cut.
The man jailed for torturing and sexually abusing Aodhán Woods has won an appeal against his 11-year sentence.
Darren Fu, 20, formerly of Drumart Walk in Belfast, will now serve four and a half years behind bars and a further four and a half years on licence.
Reacting to the news Aodhán's mother Janis said she was "gutted".
"It's disgraceful," she said.
Aodhán has waived his right to anonymity and encouraged other victims to go to the police despite the appeal court ruling.
He did not expect Fu's sentence to be reduced: "It feels like one step forward, two steps back."
He said he tries not to think about the day Fu is released: "By then hopefully it won't be a worry of mine.
"It's such a small thing in my life now I don't want to let it bother me because there's no point, it's in the past."
Senior judges cut Darren Fu's term to nine years after ruling that the starting point in the sentencing process was too high.
They also held that a disparity with the six years imposed on an accomplice involved in tying up and humiliating their victim called for a reduction.
Fu challenged his sentence in the Court of Appeal, arguing that the term imposed was manifestly excessive.
Delivering judgment, Mr Justice Colton pointed out that a starting point taken in the sentencing process should be reserved for the most severe incidents of prolonged rape.
He said: "Bad as this case is, it should not fall into the category of a campaign of rape occurring over many years."
Fu's lawyers also claimed the gap between his sentence and the combined three years in prison plus three years on licence imposed on his co-accused, warranted a reduction.
Agreeing with the disparity argument, Mr Justice Colton said that both defendants were of similar age and had each participated "fully and enthusiastically".
The attack took place on 30 May, 2014 when Mr Woods called to Fu's flat in the Stranmillis area of Belfast.
The original trial was told Fu had ordered Aodhán to sell drugs and he was worried before entering the flat because he had not sold enough.
The court heard that during the attack the pair subjected Mr Woods to "exceptional degradation," holding him at knifepoint, burning him with cigarettes, and seriously sexually assaulting him.
The ordeal lasted a number of hours before they released the teenager, who then contacted police.
Fu had pleaded guilty to four charges - false imprisonment, two counts of sexual assault, and rape.
His co-accused admitted six counts including false imprisonment, two counts of sexual assault and attempted rape.