Belfast strongest UK city for economic growth in 2015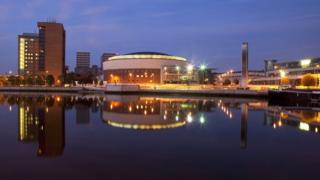 Belfast experienced the strongest economic growth of any UK city in 2015, official figures suggest.
The growth rate is measured using Gross Value Added (GVA) per head.
In crude terms, it is calculated by adding up the incomes generated by people and companies and dividing that sum by the population.
GVA per head in Belfast grew by 4.7%, compared to 4.5% in Edinburgh, 2.6% in Cardiff and 1.6% in London.
However, Ulster University economist Esmond Birnie warned: "Some caution needs to used in interpreting the growth of GVA per head at the level of cities."
He said the output level is sometimes boosted considerably by commuters who travel across the city boundary to work within the city.
Drop in some areas
The GVA produced by those commuters counts toward the total GVA of the city, but that figure is then divided by the smaller number represented by city residents.
Outer Belfast as well as the east and north of Northern Ireland all experienced a slight fall in GVA per head.
Growth in the west and southern areas was just 1.3%.
For Northern Ireland as a whole, growth was just 1.4% - the second lowest of the 12 UK regions.
In monetary terms, the average GVA per head for the UK in 2015 was £25,351, however, that is skewed by London, which is much higher than other regions at £43,629.
GVA lower than 1997
Northern Ireland had GVA per head of £18,584 - just ahead of Wales on £18,002.
That means Northern Ireland's GVA per head was just 73.3% of the UK average in 2015.
In 1997, when the data was first published, it was 83.6% of the average.
The gap with the rest of the UK narrowed in the boom years and peaked at 84.5% in 2007, before falling away sharply during the recession.
Dr Birnie said the continuing widening of the gap is "deeply concerning".
"Here we see a fundamental strategic weakness of the Northern Ireland economy and it is one which should be given priority in the next Programme for Government," he said.
"If not, we may simply continue to slip further and further behind in terms of comparative productivity, competitiveness and living standards."