Man injured in underground fire shock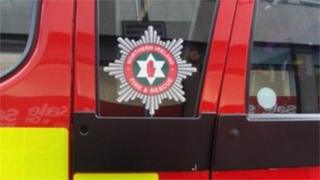 A 41-year-old man has been taken to hospital after sustaining an electric shock in East Belfast.
The member of the public was investigating an underground fire when he was injured, said a spokesperson for the Fire and Rescue Service.
"The man walked across the area of pavement where the smoke was coming from," said the spokesperson.
Homes were evacuated on Melrose Avenue and Beersbridge Road on Tuesday night.
Higher than normal carbon monoxide levels were detected in the area at the time of the fire.
A 36-year-old man was also treated at the scene for carbon monoxide poisoning.
NIE assisted the fire service in putting out the fire, they said the fire was caused by a faulty cable.
Carbon monoxide levels have now been reduced to normal, power has been restored and residents have been allowed to return to their homes.