Virtual reality project transforms learning for Glengormley pupils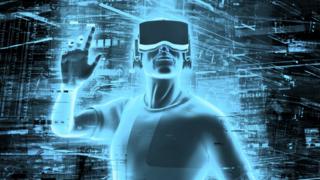 It is technology which will change many parts of our lives, and virtual reality (VR) is already making its way into the classroom.
Pupils at Edmund Rice College in Glengormley, County Antrim, are able to see the world, travel to the moon and see inside the human body - all without moving away from their desks.
The school is one of the first in Northern Ireland taking part in a Google project to bring VR to one million pupils across the UK.
Although it looks high-tech, the technology bringing VR to the classroom is simple and relatively cheap.
Footage is taken using a special camera and then put onto a free app.
It can then be downloaded onto a smartphone and viewed using cardboard 'glasses'.
But is it something more than a gimmick and does it really help pupils learn?
Technology teacher at Edmund Rice College, Chris McAtee, controls what pupils experience through their VR glasses from his i-pad.
He certainly thinks that VR can help him teach and pupils learn.
"We're touching on a range of subjects here, from science to geography, history and ICT," he said.
"The boys have gone to places like the Philippines and Australia using this.
"They've also been looking at the human body, going inside the lungs of a smoker and of somebody who doesn't smoke."
"It links in with every subject in the school curriculum and it's an innovative way to learn."
Pupils in Year 10 at Edmund Rice College were using VR to get a close look at sharks in the oceans, and the planets of the solar system when I visited.
They gave the technology the thumbs-up and said it made learning more fun.
"I've been to whole bunches of places - in the ocean, at the solar system, on the moon and seeing the Northern Lights," said Aidan Larkin.
"It's a lot more fun than just sitting and people talking to you about it."
His classmate Christopher Mackin agreed: "We've been looking at why you shouldn't smoke as it makes your lungs black," he said.
"We've also looked closely at healthy lungs."
Jonathan Hanna had been swimming with sharks - virtually.
"It feels like you're there, but you're not really - you can see the shark swimming towards you, but it doesn't attack you."
The Expeditions programme was launched by Google CEO Sundar Pichai in the UK in 2016 to provide virtual reality trips to school pupils.
The company wants more schools to follow Edmund Rice College's lead and sign up to the free project.