Spinal Muscular Atrophy: Children to receive life-changing drug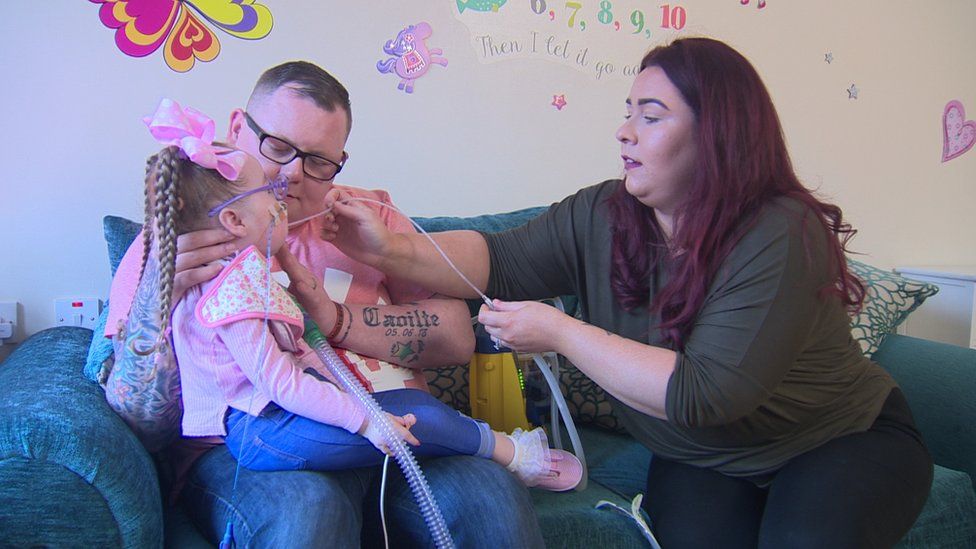 The families of three children in Northern Ireland who suffer from a severe muscle wasting disease have been told they are to receive a drug which may improve their quality of life.
The children have Spinal Muscular Atrophy (SMA), a genetic condition that causes progressive muscle weakness and loss of movement.
The children suffer from the most severe form of the condition.
The new drug, Nusinersen, was approved in December but has yet to be licensed.
A fourth child suffering from the illness in Northern Ireland has received the treatment, which led the three remaining families to question the Belfast Health Trust in January on why their children were being denied it.
Three-year-old Caoilte Fitzsimons has the severest form of SMA and is unable to sit, walk, crawl, feed, breathe or hold her head without support.
Her mum, Fiona, told the BBC in January that the family wanted answers.
"There are only four children with the condition - why is one getting this treatment and the others are not?
"We are so angry we feel our children are being neglected."
The said that the administration of the drug was complex.
It said it requires highly skilled clinicians with access to theatres as well as other limited resources.
As it has yet to be licensed, Nusinersen is provided free from the pharmaceutical company.
It is administered via a lumbar puncture, which means it is injected into the spine.
There was no other form of treatment for SMA until 23 December.
The American Food and Drug Agency then announced that it had given full approval for the first treatment for the condition with Nusinersen.
While approval for a licence is yet to be made available, an arrangement called the Extended Access Programme allows children who are judged eligible to be given the drug.
Belfast was included as one of the places where the drug had been made available.