Shankill woman tells of 'terrifying' scaffolding fall on house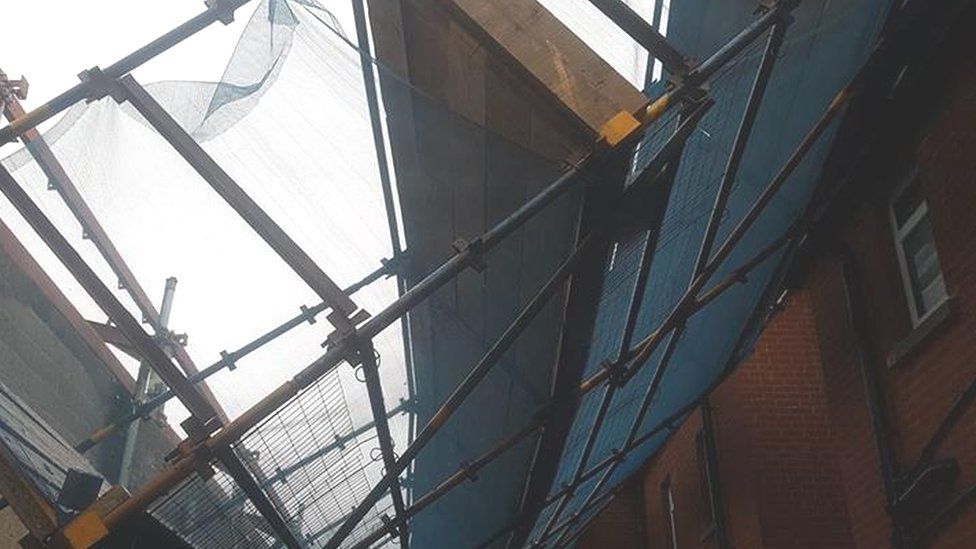 A west Belfast woman has described the "terrifying" moment scaffolding fell on her house during Storm Doris.
Janelle McKee from Battenberg Street in Belfast was getting her children ready for school when she heard a loud bang.
"The sound was so loud I thought the TV in my little boy's room had fallen off the wall," she told BBC News NI.
Ms McKee rushed into her four-year-old son's room and said she found him in a distressed state.
"My wee boy has learning difficulties and can't talk very well but kept saying "scared".
"Both he and my wee girl were both shaking. They were absolutely terrified.
"I couldn't see any damage in the room but I opened his blinds in his room and saw the scaffolding at his back window."
Ms McKee said she does not know what damage has been done to her home but that "a few neighbours have now got the scaffolding down from their houses and a bit of damage has been done".