Students find fear and foreboding in Washington DC
By students from Bangor Grammar School
in Washington DC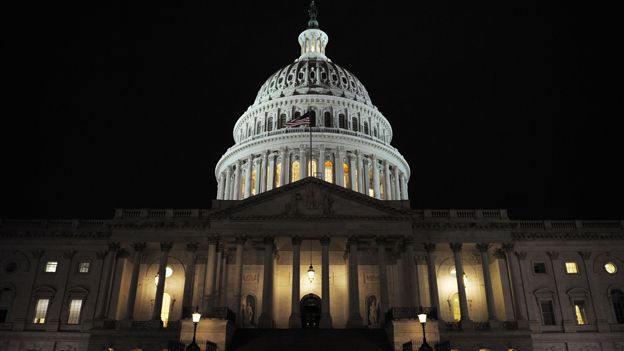 Pupils from Bangor Grammar School in County Down travelled to Washington to experience the excitement of a US presidential election.
On the eve of election day they share their opinions on the mood in Washington DC and the upcoming election result.
How should Washington DC feel on the eve of a historical election? Electric? Excited?
We arrive in the city a week ahead of the election and during our visit we searched in vain for citizens who looked forward with optimism to casting a vote for their preferred candidate - and found none.
What we encountered instead was a grim sense of foreboding and frustration.
'We are better than this'
Eli, a young student from West Virginia whom we met on the National Mall, summed up the mood.
"A country of 300 million people ought to be able to produce better candidates," he said.
"We are better than this. No-one speaks for me. Our system no longer works."
Around Eli hawkers sold 'Trump' and 'Hillary' merchandise to tourists - the only people, it seems, that were interested in buying it.
A group of Koreans bought some bright red Make America Great Again baseball caps.
They were slapped on heads while the smiling group posed for photos in front of the Lincoln Monument, then hurriedly stuffed into bags. Lincoln looked on in bemused silence!
Later, during our visit to St Albans School, a private school that sits beside the National Cathedral, we had an opportunity to discuss American politics with some of their students.
Globalisation failing Americans?
There was, among the students, the same sense that politics in America had failed to live up to its promise.
But there was also an understanding that Trump had tapped into a real and justified anger.
"Globalisation has worked for America," said Josh, a Senior and a regular at the school's Government Club.
"But it hasn't worked for all Americans. They are the people who will vote for Trump."
There may have been dismay at the nature of the choice facing the US electorate, but still confidence that, in the end, democracy still offers America the best hope of addressing her problems.
The motion up for debate at Government Club that evening was that 'This House no longer has confidence in the people.' The motion was defeated, by a landslide.
Our visit also took us to Galladudet University, in the West of DC - it seemed a world away from leafy, privileged St Albans. We went there to take a break from politics and to watch a college football game.
Gallaudet is a university that caters for the deaf and hearing impaired. We walked into a campus filled with thousands of people, all eagerly awaiting the game. Yet standing in the middle of the crowd, we could still hear the birds sing.
Around us, students, athletes, hot-dog sellers and parents all communicated in sign language.
On the bleachers, the atmosphere was expectant. Gallaudet hadn't won a game in over a year, but there were high hopes.
At last, a competition that got people excited.
We stood for a silent, signed rendition of the Star Spangled Banner and then sat down to watch the game.
Two evenly matched competitors went head-to-head in a thrilling demonstration of all that is best about America.
The contrast with the political race was marked.
Gaulladet won their game, and the team withdrew to celebrate their well-earned victory.
Whichever of the candidates wins the presidential election, their challenge will be to unite and inspire their country.
Perhaps they should take the motorcade to Gaulladet.
They just might learn something.