Barman suffers serious head injuries in Carrickfergus assault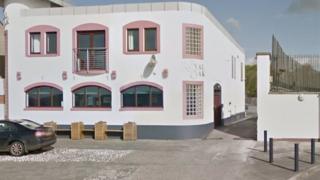 A barman is in a serious condition in hospital after suffering head injuries during an assault in Carrickfergus, County Antrim.
Police said they received a report that a member of staff was attacked in the Royal Oak bar on Green Street at about 21:40 GMT on Saturday.
Three men, aged 36, 52 and 50 have been arrested in connection with the incident.
The police have appealed for information.
Alliance Party MLA Stewart Dickson said it was a "horrifying" incident.
"The extent of the injuries indicates this was a brutal attack, made all the more chilling as the victim was simply carrying out his duties on a Saturday night as an employee at a local bar," he said.
"My thoughts are with the victim, his family and wider circle and I hope we hear positive news on his condition in the hours and days to come."