Wild Ireland: Having a whale of time filming wildlife
Rowing a small wooden boat as sharks swim beneath you is not everyone's idea of fun, but it is all in a day's work for cameraman Colin Stafford-Johnson.
He got up close and personal with basking sharks and majestic humpback whales as he paddled along Ireland's wild Atlantic shoreline.
The Emmy-award winning programme-maker travels the coast from Kerry to Antrim for a new BBC Northern Ireland TV show.
Wild Ireland: The Edge of The World begins on Sunday evening.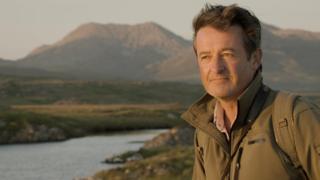 The starting point of his journey was an out-of-this world view of Skellig Rocks - a Unesco World Heritage Site off the Kerry coast.
The larger of the two rocky islands, Skellig Michael, was used as a filming location for parts of Star Wars Episode VII.
'Special place'
Mr Stafford-Johnson said he forgot about the islands' Jedi links as he was concentrating on filming its teaming bird population and spectacular scenery.
The cameraman - who has 30 years' experience of wildlife filming - said it is a "very special place" and the vista from the top of Skellig Michael is probably his favourite view of Ireland.
"There is nothing like it in the rest of the world," he said.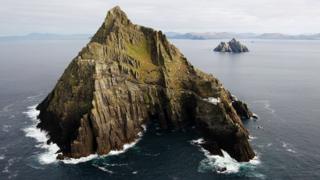 Having worked on prestigious shows such as Planet Earth, presented by Sir David Attenborough, this project was something of a homecoming for the Dubliner, who now lives in Westport, County Mayo, on Ireland's west coast.
He said Westport also marked a useful "halfway point" in his filming schedule, as the first programme in the two-part series follows the coast of Kerry to Clew Bay, County Mayo.
The second picks up from the bay towards the Sea of Moyle.
'Feeding frenzy'
Moyle marks the narrowest point between Northern Ireland and Scotland, and it was along the north coast where the cameraman was surrounded by basking sharks, only about 50m off shore.
Along the west coast, the team filmed dozens of humpback whales, jumping around the wooden currach that Mr Stafford-Johnson was paddling.
The cameraman often found himself in the middle of a "feeding frenzy" as the arrival of single gannet would signal that a shoal of fish was on the move.
"More gannets would come down and the next thing the whales arrive," said Mr Stafford-Johnson.
"All this wildlife would suddenly come out of nowhere."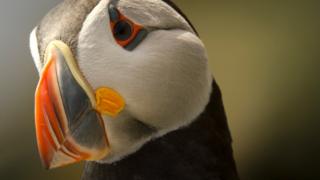 The team also filmed on land and from the air, and witnessed the violent rutting season of the oldest known herd of red deer on the island of Ireland.
Huge, powerful stags lock antlers in their bid to win a mate in Killarney National Park, County Kerry.
"When you see the aggression - all the hormones in the air - it is quite a spectacle to see," said Mr Stafford-Johnson.
Part one of Wild Ireland: The Edge of The World was broadcast on BBC One Northern Ireland on Sunday, 19 March and will be available on the BBC Iplayer.