Syria terror accused Eamon Bradley to face new trial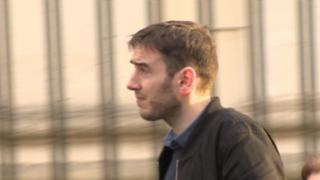 A Londonderry man acquitted of possessing hand grenades in Syria is to stand trial again on charges on which the jury failed to reach a verdict.
Eamon Bradley, originally from Melmore Gardens, was alleged to have been involved with rebels opposed to the Syrian government and Islamic State.
At Belfast's Laganside Courthouse on Monday it was decided he would stand trial again on three charges.
They include attending a terrorist training camp.
The 28-year-old is also accused of receiving instruction in the use of a grenade, an AK-47 and other firearms on differing dates between March and September 2014.
A jury at his original trial last month failed to return any verdicts on those charges.
The jury acquitted him of three further charges of having a grenade with intent to endanger life between May and October 2014.
Mr Bradley will stand trial at Londonderry Crown Court again in late August or early September.
His bail conditions were reduced at Monday's hearing: While he will still have to report to the police, a curfew between 23:00 and 07:00 was lifted.
A prosecutor told the judge it had been hoped the retrial could be held after the Easter break, but that this was not possible because of witness difficulties.
It was thought best that if the trial were to start in the last week of August, it could be completed by the beginning of September, he added.
The judge adjourned the case to be mentioned again early next month when the date for the retrial will be confirmed.