Police Federation hits out at PSNI office closure plans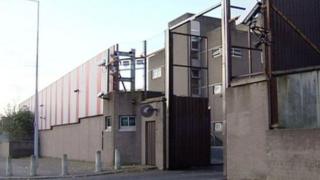 The Police Federation for Northern Ireland (PFNI) has hit out at plans to close some police enquiry offices.
The PSNI has confirmed that from 3 April, six offices will no longer be open for routine business.
There will be reduced opening hours in the majority of its remaining offices.
PFNI Chairman Mark Lindsay described the plans as "the first inevitable step on the road to implementing further cuts which will fundamentally change the way policing is delivered".
The number of Station Enquiry Offices across Northern Ireland will reduce from 36 to 30, with offices closing in:
Antrim Road (Belfast)
Ballycastle
Ballymoney
Carrickfergus
Portadown
Newcastle
'Digital footprint'
The PSNI said advances in technology had made it possible for police to "deliver new ways of reporting crime, filling out official forms and engaging with officers".
It said the "evolving digital footprint means that people no longer need to visit police station enquiry offices as often".
However, Mr Lindsay said that despite changing trends, there was no substitute for face-to-face interaction with the public.
'Remote service'
As budgets continue to be slashed, there will be radical decisions taken by the PSNI which will force communities to think differently about the role of the PSNI and how they interact with the public, he said.
"This latest development has the potential to restrict access to Police Officers which will reduce levels of engagement.
"The danger is we will become a more remote service, unable to provide required levels of visibility and reassurance to people in need.
Mr Lindsay also expressed concern over the loss of up to £20m in the PSNI budget.
He said there would "inevitably be further cuts" which would "impact adversely across the board".
"We're already seriously under-strength and I expect that situation to worsen as hundreds of Officers take up retirement entitlements over the next two years," he added.