Bus Éireann strike: Cross-border services affected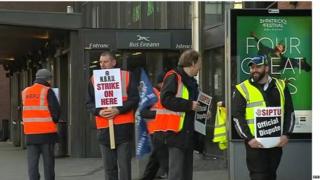 Tens of thousands of people in the Republic of Ireland have had their journeys disrupted by a nationwide bus strike
Workers at Bus Éireann called an all-out strike from midnight on Thursday.
Northern Ireland bus operator Translink said the cross-border X1 and X3 services it operates with Bus Éireann are not operating.
Passengers are advised to refer to the Translink website.
'Not a matter for minister'
The Irish Minister for Transport Shane Ross said industrial relations dispute is not a matter for the minister and he will not be intervening.
He said both parties should go to the Workplace Relations Commission and the Labour Court for talks.
Mr Ross said he would be happy to talk to all stakeholders in CIÉ, after the strike.
The X1 runs from Belfast to Dublin via Dublin Airport, and the X3 from Londonderry to Dublin via the airport.
Translink's own Dublin Goldline services, the X2 and X4 from Belfast and Londonderry continue to operate.
It has asked passengers to consider travelling to Dublin by rail.
No agreement
Unions called the strike over Bus Éireann's implementation of cost reduction measures without their agreement.
The company has warned that the strike will worsen its financial situation, which it has described as perilous.
It says there is significant disruption, with some services cancelled and others curtailed.
SIPTU union official Willie Noone told RTÉ radio that staff had "no other choice" but to strike in an attempt to protect their livelihoods.
'Regrettable' inconvenience
Stephen Kent, a senior manager with Bus Éireann, apologised to customers for the "highly regrettable" inconvenience caused by the strike.
The company lost 9m euros (£8m) last year and a further 50,000 euros (£43,000) a day in January.
Iarnród Éireann (Irish Railways) says some of its intercity train services have been affected due to picketing.
A spokesperson for Dublin Bus said all services are operating as normal in the city.