Two boys injured in Craigavon petrol bomb attack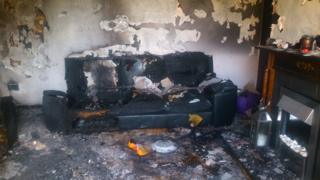 Two teenage boys have been injured in a petrol bomb attack in Craigavon, County Armagh, it is understood.
One petrol bomb was thrown at the property in the Lakelands area at about 23:30 GMT on Thursday.
MLA Doug Beattie told the BBC the boys had been watching TV in the living room and suffered injuries to their feet from broken glass.
The police said a group of three or four young people were seen running away from the house after the attack.
The mother of the boys, who is understood to have been in a different room at the time of the attack, was left "terrified" by it, a neighbour said.
Substantial damage has been caused to the house. Police are appealing for information.
Mr Beattie condemned the attack: "I am totally disgusted anything could do something so wanton.
"The police need to be robust in dealing with a case like this."