Man shot in the leg in Creggan, Derry, bookmakers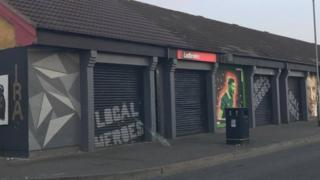 A 23-year-old man has been shot in the leg in Londonderry.
He was attacked by two masked men inside a bookmakers' shop at Central Drive in the Creggan area of the city.
It happened at about 20:35 BST on Monday. The man's injuries are not believed to be life-threatening.
Sinn Fein councillor Kevin Campbell described it as "another pointless shooting" and said a number of young people from a nearby youth club had witnessed the attack.
"He had played a football match earlier, across the way on the football field, then came over," he said.
"He was playing a poker machine when two masked men came in and forced him to ground and shot him in the leg.
"You could see he was injured as there was blood on the ground.
"This community doesn't want this type of behaviour."