Special Olympics heroes back home in Northern Ireland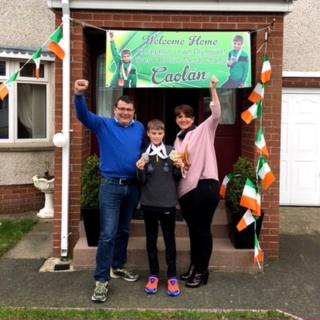 Ireland's Special Olympics team are on home soil after a great Winter Games in Austria.
They brought back an impressive medal haul of two gold, three silver and three bronze medals.
In his debut World Games, skier Caolan McConville from Aghagallon won two medals despite having only hit the snow for the first time in January.
The County Antrim 13-year-old is Ireland's youngest athlete. He said winning two medals was a lot of fun.
"It was shocking that I won. It was very exciting and just a lot of fun. I can't wait to go back to the Olympics," he said.
'I felt like a bit of a celebrity'
Caolan was shocked by the amount of support that he received when he came home to Aghagallon.
"I didn't expect it one bit. I felt like a bit of a celebrity," he said.
Caolan's mother, Edel, said she was extremely proud of him: "He started two years ago in the Ski-ability club in Craigavon.
"He then went in January for a week's training and loved it. It's just his sport.
"We're still all coming down to earth, because it's hard to believe that he achieved so much.
"Caolan always said never let your dreams be dreams, never let anybody think that you can't do it."
It was also the debut World Games for Carryduff teenager Sean McCartan who claimed gold and bronze.
Cyril Walker, from Markethill, County Armagh, had high hopes for his second World Winter Games, having achieved Bronze at the Special Olympics World Winter Games in Japan in 2005.
On the slopes of Schladming, the 46-year-old clinched silver and bronze.