Public services ombudsman can probe school complaints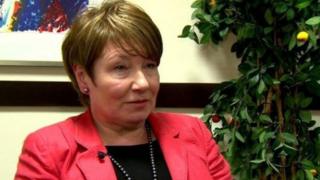 The public services ombudsman has received new powers to investigate complaints against schools in NI.
Pupils or parents will now be able to complain to the ombudsman if they feel a school has treated them unfairly.
The ombudsman, Marie Anderson, already has powers to investigate complaints about health, housing and local government.
However, she said that parents and pupils should regard approaching her office as a "last resort".
"This is an important new role for my office and brings approximately 1,200 publicly funded schools under my jurisdiction," she said.
"It is only once a complainant has exhausted a school's internal complaints procedure without satisfaction that they can bring their complaint to me.
Independent oversight
"I cannot investigate every complaint that comes to my office.
"My staff consider the nature of the complaint, the impact on the child or young person and the importance of the issue for the school's provision or service and care to its pupils."
Examples of complaints the ombudsman could investigate include:
How a bullying incident was dealt with
How school rules were interpreted by a teacher or principal
Delays in a special education needs (SEN) assessment
The ombudsman's new powers have been welcomed by the Children's Commissioner Koulla Yiasouma.
"The nature of the relationships between pupils, parents and teaching staff can make the complaint resolution process difficult," Ms Yiasouma said.
"Now, once internal procedures are exhausted there will be independent oversight available to investigate and, where possible, resolve important issues."
The Office of the Northern Ireland Public Services Ombudsman was established in April 2016.