Major gas leak in Antrim dealt with say fire service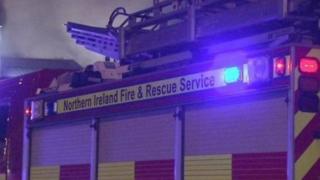 A major gas leak in Antrim has been dealt with, the Northern Ireland Fire and Rescue Service (NIFRS) have said.
It happened on the Mull Road in the Stiles Way area of the town at about 21:40 BST on Thursday.
The NIFRS said the gas main may have been punctured by a contractor using an excavator.
Residents were advised to to stay inside their properties and keep all windows and doors closed during the incident.
"Thankfully it is an unignited leak, so it has not gone on fire," NIFRS group commander Dermot Rooney told BBC Radio Ulster on Thursday night.
He said his officers worked with Firmus Energy to monitor concentrations of gas in the atmosphere and had fire appliances at the scene in case the gas leak ignited.