Tributes to captain Ryan McBride at Derry City match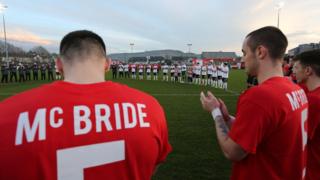 Tributes were paid to former Derry City captain Ryan McBride as the team played its first game since his death.
The 27-year-old defender was found dead at his home in Derry on 19 March.
During the pre-match warm-up in Buncrana on Friday night, Derry's players wore white tee-shirts bearing their late captain's surname and his regular squad number five.
The club's youth players formed the number five on the pitch as the teams came out at Maginn Park.
With members of the McBride family in attendance, a minute's applause took place before the kick-off.
'Amazing'
Ryan's sister Caitlín said it was a great source of comfort for the family.
"I think the family's just overwhelmed by how well everybody's turned out to remember Ryan and we just want to thank the people of Derry and especially Derry City," she said.
"It's been great, it's just been so much comfort, reading so many good things about him and the great things people have said about him, it's just been amazing."
Derry City director Denis Bradley said it had been a difficult time for the club.
"This tribute tonight I think is just a recognition and some kind of expression of the warmth in which this young player was held," he said.
"The captain, but just a local lad too who gave it all for the club and I think the local supporters have just come out in a very strong tribute saying 'death's very final, but the memory goes on and I think will go for a long time'."
Former Derry City striker Liam Coyle added: "He was starting to mature as a player, you could see the captaincy was bringing out the best in him and he was hitting his peak.
"I think Ryan was turning into the best centre half in Ireland and it's just unfortunate we didn't get to see the best of him."
Derry City lost the game 3-2 to Bray Wanderers.