Dunmurry robbery carried out by gang dressed as postmen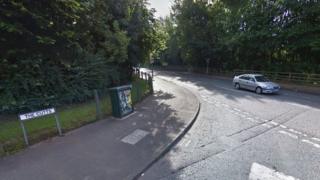 A gang of men dressed as postmen have carried out an armed robbery in Dunmurry, County Antrim.
The police said that three men, one armed with a suspected firearm, entered an office premises on The Cutts at about 13:00 BST on Monday.
The men assaulted two women, both staff members, before tying them up and making off with a sum of money.
The employees suffered minor injuries and were left badly shaken.
Police have appealed for information.
One of the suspects is described as being about 6ft tall, in his 30s with piercing green eyes and pale skin.