Bangor: Teenage girls rescued from rocks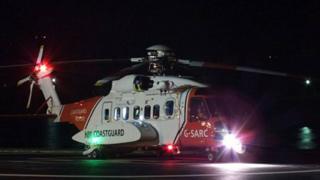 Two teenage girls have been rescued by the coastguard after being trapped on rocks near Bangor, County Down.
It is understood that they had been stuck on the rocks at Ballymacormick Point for a number of hours.
The alarm was raised at about 21:00 BST on Tuesday. Bangor coastguard rescue team, the coastguard helicopter and Bangor lifeboat were deployed.
The girls, who are both 15 years old, were treated by paramedics for the effects of cold.
Ryan Gray from the coastguard said: "It's quite a difficult area to get a boat in there should we need to, which is part of the reason that the coastguard rescue helicopter was tasked.
Waist-high in water
"The girls had gone for a walk but had gone out too far and the tide had come in around them."
At one point it is believed the teenagers were waist-high in water.
"The girls were found very quickly and were brought back very quickly," Mr Gray added.
"They were very appreciative of the emergency services."
Following treatment the girls returned home.