Paper review: Frampton hits back against Twitter troll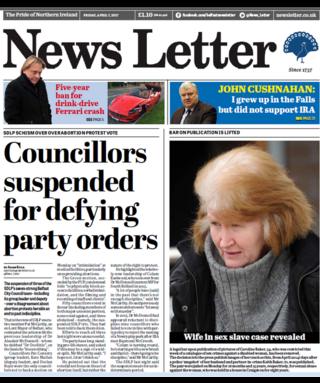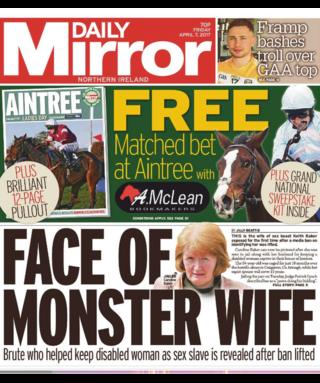 "I've no regrets." The words of a suspended SDLP councillor are the Belfast Telegraph's splash on Friday.
The defiant SDLP councillor in question is Declan Boyle.
He was suspended, along with two other members of the party, for not backing a Belfast City Council meeting motion for an end to the harassment of women at some health clinics that offer "reproductive healthcare".
The Botanic councillor says he is "proud to be pro-life".
The SDLP in-party disagreements also make the front page of the News Letter.
Tramadol demand
The Irish News's front page is given to the shocking attack on two pharmacists in Belfast on Thursday.
Pharmacy owner Paul McDonagh was attacked at his business on the Falls Roads along with locum Peter Wright.
The paper reports that the alleged attacker "demanded the prescription drug Tramadol" and stabbed the pharmacists after being refused.
A 26-year old is being questioned by police after the second attempted knife robbery on a pharmacy in west Belfast in the past year.
The Daily Mirror, along with all the papers, carries pictures of a woman who has been jailed over a sex-slave case after reporting restrictions were lifted.
Caroline Baker was given a three-year sentence for her part in subjecting a disabled woman to horrific sexual assaults over eight years.
She was described by the judge as a "pawn doing (her husband, Keith Baker's) bidding".
Keith Baker, was sentenced to 15 years in prison, with another five years on licence.
'Orange Lodge capsule'
History is being suspended in time at the site of the new Limavady Orange Hall.
Construction of Limavady Orange Heritage centre is almost complete and a time-capsule is being buried "to give future generations a glimpse into the life in Limavady District 2017".
A time capsule dating back 125 years was found during the construction work on the new centre.
It contained a copy of the News Letter, coins from the time and ribbons.
The Belfast Telegraph carries story about a true hero: 18-year-old Eliza Ward was brutally murdered 20 years ago, after she stepped in to save the life of her boss from a work colleague with a knife.
Her sisters plan to run next month's Belfast Marathon in her memory. Two decades later, her mother Alana says the passage of time has not made her passing any easier.
"Some days are good some days are bad but the emptiness is always there," Alana told the paper.
'Boxer to turn GAA star?'
Could boxing champion Carl Frampton be about to take up GAA?
The Irish News carries a picture of the former two time world champion wearing an Antrim jersey.
There was quite a commotion on social media, after Carl popped into a coffee shop in Belfast wearing the bright yellow jersey.
The Daily Mirror reports on the words Mr Frampton had for a twitter "troll" who took umbrage with his wearing the top.
Mr Frampton tweeted a picture of a hurl with the words: "Any more talk like that and you'll get this around the coupon."
Antrim GAA PR officer Sean Kelly told the paper: "If he wants to sign for one of our clubs he'd be more than welcome."
So if you see the boy from Tigers Bay swapping his gloves for a football, don't be too surprised.
A purr-fect ending?
On Thursday, the Belfast Telegraph reported on the plight of a group of cats who have taken up residence at Stormont.
The felines were facing an uncertain future after the pensioner who has been feeding them every day for 30 years was denied entry to certain areas on the grounds she was a "security risk".
However, it seems the paper's invention has helped and 76-year-old Edna Watters is now free to feed the cats. A purr-fect outcome (sorry).
And finally - fans of 90s pop music rejoice! The Daily Mirror reports that Irish girlband B*witched are making a come-back. Time to dust off the double denim and twirl your umbrellas!
They'll be playing in Dublin in April, but it is not yet known if they will be coming to Belfast.
C'est la vie!