Belfast hotel warns Irish dancing guests against practising in elevator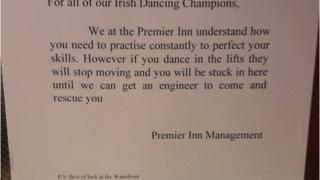 The synchronised steps of Irish dancing are a mesmerising sight but not recommended for travelling in lifts, a Belfast hotel has advised.
A tongue-in-cheek sign posted by management of a Premier Inn warned Riverdancing residents against rehearsing reels while between floors.
The World Irish Dance Championships are being held at the city's Waterfront Hall.
A picture of the sign was posted to Twitter by Lianne Reddy.
She tweeted that she "couldn't breathe with laughter".
The sign, addressed to "all our Irish Dancing Champions", said: "We at Premier Inn understand how you need to practise constantly to perfect your skills.
"However if you dance in the lifts they will stop moving and you will be stuck here until we can get an engineer to come and rescue you."
It added: "P.S best of luck at the Waterfront."
Lianne's tweet of the sign has attracted more than 500 retweets.
She told the BBC that she was staying in the hotel as a guest when she spotted the message to guests.
"We had noticed the hotel was really busy but didn't know why," she said.
"I didn't realise there was an Irish dancing competition on until we saw the sign."