Firefighter attacked in Ballymena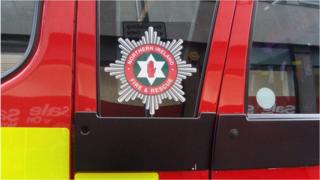 A firefighter had to flee from a housing estate in Ballymena, County Antrim, after coming under attack early on Sunday morning.
The man was part of a team which saved a person from a burning flat in Dunclug Park.
When he went to leave the area, bottles and bricks were thrown at him.
"He was shocked and very, very quickly realised the severity of the attack upon him," said Group Commander Max Joyce.
"He got into his car and got away from there."
The fire was reported at about 04:40 BST and is being treated as deliberate.
Substantial damage was caused to the flat, but there were no reports of any injures as a result of the fire.
Mr Joyce said this is one of a series of attacks on firefighters in the Ballymena area in recent weeks.
"It is unacceptable that our firefighters who are dedicated to the community of Ballymena and who sometimes put their lives on the line for the people of Ballymena should come under attack," he said.
"Last evening it was youths but over the past few weeks we've been attacked in other areas of Ballymena, some of those involved have been as young as ten years old."