Newspaper review: UUP's big challenge, Fr Ted for Pope?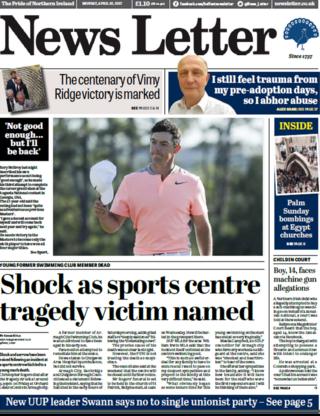 The new leader of the Ulster Unionist Party says he won't be pushed around as Monday's papers reflect on the size of the challenge facing Robin Swann.
He was elected leader, unchallenged, at the weekend and The News Letter notes his acceptance speech included jokes about his own "diminutive" stature.
"Standing at the great height of 5ft 3ish, I have had my experience of people trying to bully me," he said.
"Trust me - I have never been pushed around."
'Electoral pact'
The new UUP leader ruled out calls for a merger with the bigger Democratic Union Party (DUP) and warned that the union could be under threat if his party failed to represent unionists "with a small u".
It seems the DUP is taking a careful approach with its smaller rival, as the Belfast Telegraph leads with a call for an electoral pact between the two parties.
DUP MP Sir Jeffrey Donaldson tells the newspaper: "We don't have to have a single unionist party to have greater unionist unity."
The Sun uses its front page to support a justice campaign by families of IRA victims killed in a bomb attack in London in 1982.
Four soldiers and seven cavalry horses died in the Hyde Park bombing and relatives want to bring a civil court action against a suspect from County Donegal, John Downey.
His criminal trial famously collapsed in 2014 when it was revealed he had a so-called "comfort letter", sent to suspects telling them they were not wanted by the police over Troubles-era crimes.
Bodies search
On the other side of the Irish Sea, the Troubles continue for four families of The Disappeared, the name given to people murdered and secretly buried by republican paramilitaries.
The Irish News, and other papers, report an appeal for information by the leader of the Catholic Church in Ireland, Archbishop Eamon Martin.
He told a church service on Sunday that "trustworthy people" in church roles and in society in general could help as intermediaries to help locate the remaining four bodies.
One well-known religious intermediary, the Reverend Harold Good, features in many of the papers because of his role in helping the Basque separatist group Eta to decommission its weapons.
The former Methodist church leader got involved because of his experience in overseeing IRA decommissioning in 2005.
However, peacemaking can be a dangerous task, and he tells the Belfast Telegraph he once came close to being arrested in Spain as he tried to negotiate with Eta rebels.
There was also little appreciation for members of the emergency services who came under attack in Belfast and Ballymena at the weekend as they tried to save lives.
The Mirror reports how youths threw bricks and bottles at a fireman after his crew helped to rescue a victim trapped in a burning flat in Ballymena's Dunclug Park.
The Belfast Telegraph says paramedics and police came under attack by a gang of youths in Belfast's Falls Park as they tried to save a young man who had stopped breathing.
Dancing in the... lifts
The Orange Order's attitude to gambling is examined on the front page of the Irish News, as it continues its investigation into a controversy over community halls funding.
The paper has found out that 40 Orange Order lodges and halls have benefitted from Big Lottery funding over the past two years, despite "claims by Stormont department that many faith-based groups would not accept such funding".
A safety warning to Irish dancers, posted in a Belfast hotel, has given a lift to one of its customers and caught the eye of most of the local papers.
A printed note beside elevators in the Premier Inn warned Irish Dancing World Championship competitors: "If you dance in the lifts they will stop moving and you will be stuck here until we can get an engineer to come and rescue you".
A photo of the note was shared on social media by Lianna Reddy, who said she "couldn't breath with laughter" over how the blunt warning was phrased.
And from shaking lifts at the Worlds to "something that's kind of world-shaking" in the Mirror, with speculation that we could be in line for Fr Ted, the musical.
It quotes a Sunday Business Post interview with Graham Linehan, one of the writers of the much-loved sit-com.
He believes it would take something massive, like Fr Ted becoming Pope, for the TV programme to transfer to the stage.
"The only thing stuck in my head is a dance sequence in the Vatican with spinning cardinals," he told the paper.