Belfast's Caped Crusaders revved up... but for what?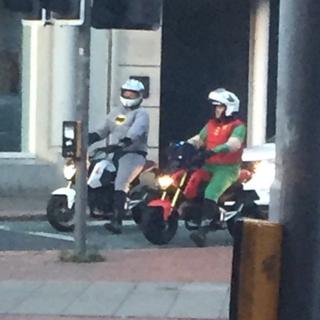 One of British comedy's best loved scenes was reprised - sort of - in Belfast city centre on Saturday night.
In Only Fools and Horses, Del and Rodney, dressed as Batman and Robin for a fancy dress party, emerge from the London fog to scare away muggers.
Belfast's caped crusaders were stopped on their mopeds at traffic lights on their way to... who knows where?
Kim O'Neill was getting cash from an ATM when she spotted the not so Dynamic Duo.
"It was just outside the Hudson bar in Gresham Street, I was just at the cash machine and turned around," Kim said.
"They were just going past, they were stopped at the traffic lights and I just turned round and said 'look at those two'."
'Belfast is in safe hands'
The Lisburn woman quickly took a picture and tweeted it.
"There was hardly anybody about, nobody tooting their horns or anything," Kim said.
"I'm sure they got a reaction along their wee journey, wherever they were going.
"I don't know if they were heading out somewhere, maybe to a fancy dress party or something. God knows where they were going.
"Belfast is in safe hands anyway with those two running about. I just thought it was so funny."
So, does Belfast have a new pair of crime fighting superheroes, or was it just two punters on their way to a fancy dress party?
We may never know.