£100,000 digger 'stolen in England' found in Armagh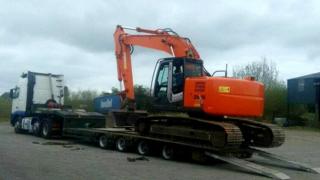 A £100,000 digger recovered by the PSNI in County Armagh on Wednesday is believed to have been stolen in England last week, police have said.
One man has been arrested after the digger was found in a yard in the Armagh area.
In a post on their Armagh Facebook page, police said: "We know the pain and frustration victims of machinery theft are caused.
"Agricultural plant theft ruins livelihoods."
They added: "We're committed to hitting back, hunting suspects down, and retrieving stolen machinery where at all possible.
"Here's proof of that."