General election 2017: Greens' Agnew 'looking for relevance', says McDonnell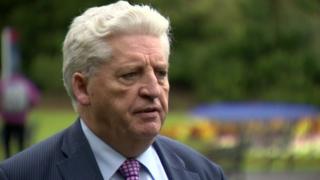 The South Belfast MP Alasdair McDonnell has accused the Green party leader of "scratching around looking for relevance".
It follows Steven Agnew's rejection of an anti-Brexit pact following the SDLP's selection of Dr McDonnell as its candidate in the Belfast constituency.
He said the former SDLP leader did not share the Greens' vision for a progressive society.
Dr McDonnell predicted he will win the seat for a fourth time.
Speaking exclusively to the BBC, Alasdair McDonnell said: "the Green Party were never going to be a serious player in any of the politics here.
'Greens not going to be a big player'
"They have a couple of Assembly seats; they have a couple of council seats across the place but they're not going to be a big player.
"Look, I have been personally insulted and personally attacked repeatedly over forty years. You know I'm not going to take that stuff seriously," he added.
Dr McDonnell told the BBC One programme The View that he does not fear a potential unionist pact in the constituency at the general election.
"The SDLP has been a dominant party in this constituency," he said.
'It's going to happen'
"People said it was impossible in 2005; they still said it was difficult in 2010 and they said, it couldn't happen a third time.
"It happened three times and I'm telling you meeting people in the street and on the doorsteps in the last few days my team are out there already.
"We keep an active canvass and the response has been better than ever. It's going to happen a fourth time, yes," he said.