Irish boxer Caoimhin Hynes stabbed on night out in Belfast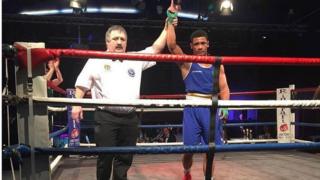 A young Irish amateur boxer has been stabbed in the face while on a night out with his girlfriend in Belfast.
Caoimhin Hynes, 20, was attacked by a group of men wearing tracksuits at Donegall Place at about 02:50 BST.
He was slashed on the cheek and has undergone surgery at the Ulster Hospital.
Caoimhin boxes for Holy Trinity club.
His uncle, Jim Hynes was a champion boxer for the same club.
On Monday afternoon, Belfast boxing champion Carl Frampton tweeted: "Disgraceful and disgusting.
"Hope he'll be back to doing what he does best soon."
Holy Trinity boxing club coach Michael Hawkins told the BBC that he had undergone two operations.
"They have patched up the wound which is four and a half or five inches long. It is just an inch or so away from the main artery.
"He is not too bad. It is just a shock to the system. He went out for a night last night, he doesn't drink, he doesn't do anything else. He is a good lad. All the kids look up to him in the club. He has a great personality.
"He got into a bit of an altercation in Belfast, it's not the done thing, for it to finish how it did, we could have been in a really, really bad place today."
Mr Hawkins said the boxer was one of a group who travelled to Paris last week, where he won three fights out of three.
"He won the Montana belt and he is on a high. He is up there," Mr Hawkins said.
"He is a real good lad. Hopefully we will get this wound sorted out properly and we can carry on."
Mr Hawkins said that Caoimhin's mother allowed the media to use photographs of her son's injuries "to remind people how easily something can turn nasty".
Following his operation, Caoimhin posted on Facebook: "I am blessed!! very lucky guy to still be alive - any lower and things could have been a lot different. What a long day this has been, very lucky to have unreal friends, family and definitely girlfriend."
Police said this was a serious assault. They have appealed for witnesses to come forward.