Loyal order rally in Portadown marks 500 years since Reformation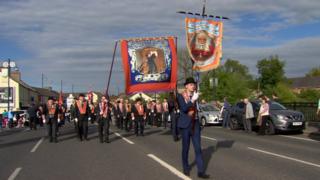 A major loyal order rally has taken place in Portadown to mark the 500th anniversary of the Reformation.
Up to 60 marching bands paraded through the town to Shamrock Park, where a religious service was held.
The rally is part of a series of events to mark the year Martin Luther publicly challenged the teachings of the Catholic church at Wittenberg, Germany.
His actions are widely regarded as the beginning of the Protestant Reformation in Europe.
Members of the Orange and Royal Black Institutions attended.