Fire service attends gorse fire in County Tyrone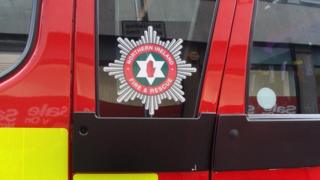 The Northern Ireland Fire and Rescue Service (NIFRS) is attending a gorse fire in Alderwood Road near Clogher and Fivemiletown in County Tyrone.
The fire, which is being treated as deliberate, was first reported at about 11:00 BST on Sunday.
Eight fire appliances and 45 fire fighters are at the scene, including crew members from the Irish Fire Service.
The blaze has spread across a 5 kilometre area, crossing the border.
'People starting fires'
It is the latest of 435 reported wildfires since the beginning of May.
Group Commander Brian Stanfield said: "We believe this fire has been started deliberately and we believe there are still people in the area qho are starting fires.
"We'd like to appeal to members of the public. This is reckless behaviour, this is not just endangering the countryside, but it is putting people's lives and property at risk."