Lough Neagh rescue: Couple found clinging to boat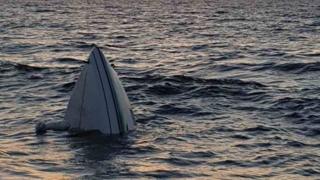 Two people have been rescued after they were found clinging to the side of a sinking speedboat in Lough Neagh.
The incident happened about 19:30 BST on Sunday. The couple, understood to be a young man and woman, were found by the Ardboe lifeboat crew.
Both casualties were retrieved from the water and taken on board the lifeboat.
They were treated on shore for hypothermia before being taken to hospital for observation.
Lifeboat crew were able to attach a tow line, re-float and "cautiously" bring the vessel safely to shore.
On their Facebook page, Lough Neagh Rescue said: "We have since learned that the casualties have been released from hospital and we wish them a speedy recovery.
"We would also like to thank the member of the public who provided an additional blanket for the casualties whilst in Crumlin Marina."