Tourists targeted in attempted robbery in west Belfast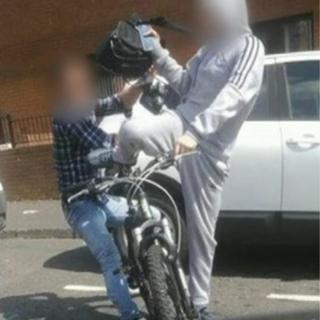 Police are investigating the attempted theft of personal items from tourists in west Belfast.
It happened near Saint Peter's Cathedral, a popular tourist area on the Falls Road, at 13:00 BST on Thursday.
An eye witness said a number of people had intervened to help the tourists, a man and a woman.
Police are appealing for information about the incident which happened on Albert Street.
Speaking to the Irish News, Sinn Féin assembly member Fra McCann praised the tourist and those who intervened for their bravery.
"There are tens of thousands of tourists who come for the international wall [on the Falls Road] on a yearly basis and this sends out all the wrong messages," he said.
Mr McCann told the paper that statutory agencies must take action to stop anti-social behaviour in the area.
"It's not acceptable that people are terrorised by the same group of people."