Councillor Padraig McShane guilty of assault on police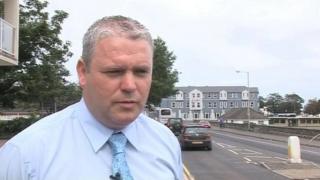 An independent councillor who was arrested during an Orange Order parade in Ballycastle, County Antrim has been found guilty of an assault on police.
Padraig McShane, 45, of Beechwood Avenue, Ballycastle, was arrested on 12 July last year.
Mr McShane, a member of Causeway Coast and Glens Borough Council, was also found guilty of resisting police, disorderly behaviour and taking part in an un-notified parade.
He will sentenced on 14 June.
The main confrontation took place in Ballycastle's Diamond area, where McShane traded insults with members of Dervock Young Defenders band.
When police intervened, McShane assaulted an officer, pushing him to the ground.
He then kicked out as police arrested him.
Two other protesters were fined £200, while a band supporter was fined £150 for making an offensive gesture.