NI Assembly Election 2017: Over 3,000 unregistered voters turned away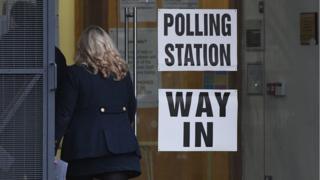 More than 3,000 people were turned away from polling stations in the last Northern Ireland Assembly election because they were not registered.
They were among the 60,000 people removed from the electoral register in 2016 for not updating their details.
The figures were included in a report by the Electoral Commission on the running of the election on 2 March.
It found that 3,475 people showed up to vote, only to be told they were not on the register.
The highest number was in West Belfast, where 425 voters were turned away.
Deadline
Ann Watt, head of the Electoral Commission in Northern Ireland, said: "It was disappointing to report that almost 3,500 would-be voters did not get to have their say at the March election as they were not on the electoral register.
"Poll cards for the UK general election have already been issued so if you have not received one, or if you are not sure if you're registered to vote, then you should contact the Electoral Office helpline on 0800 4320 712."
The report also found that voters surveyed afterwards had a positive experience.
A quarter of those surveyed said they suspected fraud but there were no reports to back up that belief.
"There is no doubt that organising and running an election with just over six weeks' notice was challenging for the chief electoral officer and her staff, but we are pleased to report today that overall the assembly election was well-run," said Ms Watt.
"We know that preparations are well under way for the UK parliamentary general election on 8 June and our report should give voters confidence that these plans can deliver another successful election in Northern Ireland."
The deadline for completing and returning an electoral registration form is Monday 22 May.
Voters who cannot make it to their polling station on 8 June have until Thursday 18 May to apply for a postal or proxy vote.