Barra McGrory 'controversial,' says Jeffrey Donaldson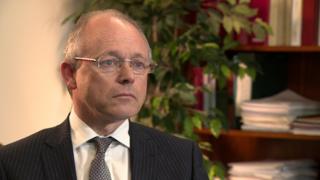 Northern Ireland's director of public prosecutions has been a "controversial figure", according to Sir Jeffrey Donaldson of the DUP.
However, Sinn Féin's Gerry Kelly said it was unionist and Conservative politicians who made Barra McGrory QC controversial.
Mr McGrory announced on Wednesday that he is stepping down.
He became the first Catholic to hold the post when he was appointed in November 2011.
He has been strongly criticised by a number of Conservative Party MPs and the Democratic Unionist Party in recent months for decisions to prosecute former soldiers.
It was this that Sir Jeffrey took umbrage with, saying there had been an "undue focus" on such killings.
While he paid tribute to him, he said the fact that in more recent years Barra McGrory has become a "controversial figure around the handling of legacy cases" could not be overlooked.
"I think this has caused a lot of concern for many people in Northern Ireland about impartiality".
Sir Jeffrey disputed figures put to him, that of 17 legacy cases since Mr McGrory took office, eight have focused on republican killings, three on loyalist and three on soldiers.
"I have dealt with the PPS on other matters affecting my constituents and I found him, in that respect, to be open and accessible.
"I have no issue with PPS in relation to the vast majority of daily cases my comments are specifically how they handled legacy investigations.
"There has been an undue focus on 10% of the Troubles and very little given to 90% of killings carried out by terrorist organisations".
'Attacked by unionists'
However, Sinn Féin's Gerry Kelly said: "You can't have it both ways. Jeffrey Donaldson either he sees him as a person of integrity or he does not. They [unionists] believe there should be immunity for state forces.
"I don't know who's going for this job but who ever does will have to have a thick skin.
"Anyone who deals with legacy will be attacked by unionist politicians," he added.
Ulster Unionist Danny Kinahan said he had called on the director to resign just last week.
He said Mr McGrory's decision to step down "will be welcomed by many people who have watched with dismay at certain decisions reached by the DPP under his stewardship".
Former justice minister David Ford of the Alliance Party said Mr McGrory had led the PPS "with skill and integrity during a difficult time due to budget cuts".
Figures obtained by the BBC in February challenged claims that investigations into Troubles killings were unduly focused on those committed by the Army.
Mr McGrory's appointment five-and-a-half years ago ruffled the feathers of some unionist politicians.
As one of Northern Ireland's best known criminal lawyers he had represented Sinn Féin's Gerry Adams, Martin McGuinness and other senior republicans.
Mr McGrory pointed out that he had also represented loyalist paramilitaries, unionist politicians and former police officers.
Earlier this year, he told the BBC that those who accused him of treating former soldiers unfairly had insulted him and his office.
Mr McGrory said he was mystified by the claims that he did not act impartially when he brought charges against a small number of ex-soldiers.