Weekly newspaper review: Sheep killer caught on camera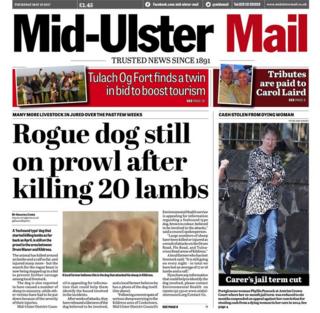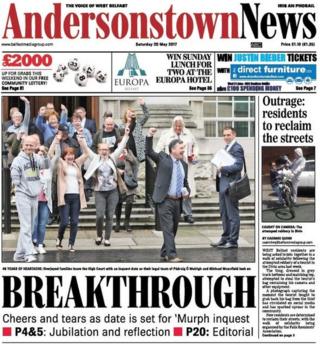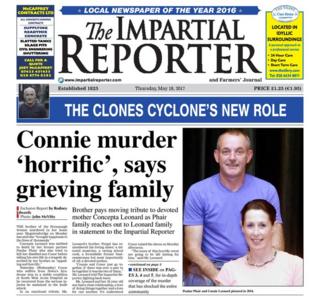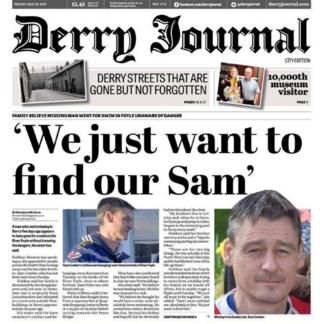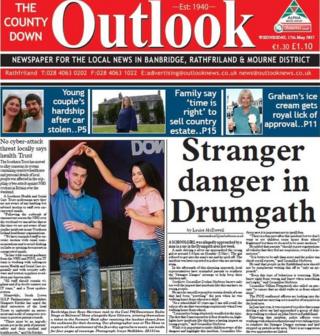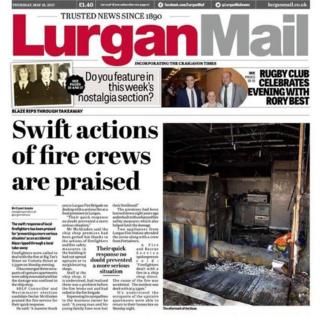 From the murder that has shocked Northern Ireland to a "historic breakthrough" for the Ballymurphy familes in west Belfast, by way of a sheep-killing dog roaming the County Tyrone countryside, this week's local papers have served up a grab bag of revealing, thought-provoking and arresting reads.
Let's start up front with the Mid-Ulster Mail's pitch for most startling headline of the week: "Rogue dog still on prowl after killing 20 lambs".
The paper reports that the alleged dog, captured on the prowl in a candidly blurry shot on the front page, has killed and injured sheep across Kildress and Drum Manor, near Cookstown.
Mid Ulster District Council has issued a warning to farmers and one tells the paper that the "ferocious foxhound" was thought to have been roaming the area since Boxing Day.
"We are averaging more dead animals if we count the sheep that are having miscarriages," he says.
"It's not only ourselves being affected by this, it is every single farmer in this area."
Another paper with a punchy front page is the Andersonstown News, which features a large image of celebrations outside Belfast's High Court above a one-word headline: "Breakthrough".
It reports that relatives of 10 people killed by soldiers in Ballymurphy in 1971 have ended their long wait for an inquest into the deaths.
"After 46 exhausting and heartbreaking years campaigning for truth and justice they were finally granted an inquest date - September 11, 2018," says the Andersontown News, with the development described as "fantastic" by one relative.
The paper picks up the theme in its editorial, where it says that it "is to be devoutly hoped that this new development will mark a quickening of the pace in the inquest process".
Elsewhere, the paper reports on a "community fight back" after an attempted robbery of a tourist on the streets of west Belfast.
An image of the robbery, which apparently showed a man attempting to steal the tourist's bag, spread across social media last week.
But now, after "uproar in the community" a walk of solidarity has been organised by the Falls Residents' Association to "show support for terrorised residents".
Meanwhile, one story has dominated the news in Northern Ireland this week - the murder of County Fermanagh woman Connie Leonard and attempted murder of her son Conor.
It's thought they were attacked by Ms Leonard's former partner Peadar Phair, whose body was also found at her home near Maguiresbridge.
The story leads the Impartial Reporter, with a front-page tribute from Ms Leonard's brother Fergal, who says that above all else she was "a devoted mother".
"Connie and Conor just go together; if there was ever a pair to be together it was the two of them."
On page three, the paper carries a statement from the Phair family, who describe it as a "horrific tragedy".
"We understand that no words of ours can lessen the pain that these tragic events have brought to the family," they add.
Another heart-rending story leads the Derry Journal, with the family of man who went missing in Londonderry saying they're devastated by his disappearance.
Sam Comber appears to have gone swimming in the River Foyle without knowing the dangers it holds, his sister Siobhan Ahearne tells the paper.
His clothes were found by the riverbank on Tuesday and his bicycle was also spotted nearby, sparking searches led by the 39-year-old's family.
"We believe he thought he would have a swim, as he absolutely loves swimming. He obviously had no idea about the river," Siobhan says.
"Sam's mum and dad are absolutely in bits - we just want to find him."
In the opposite corner of Northern Ireland, the County Down Outlook focuses on a rally in Newry to keep Daisy Hill Hospital's emergency department open.
It reports that 200 people attended the department the day before the protest, "which underscored just how much the emergency department is needed".
Up the road in County Armagh, things were just as dramatic with the Lurgan Mail leading on a striking image of a gutted restaurant after an accidental fire.
The "swift actions of fire crews" are praised in the paper after a fire "ripped" through Big Tee's Diner on Lurgan's Victoria Street last Monday.
Three people in upstairs apartments upstairs got out of the building safely but SDLP councillor Declan McAlinden notes that "a young man and a young family have now lost their livelihood".
Road-sign rage
The premises burned down eight years ago but was rebuilt with enhanced fire safety measures that helped limit the damage, the paper says.
Inside, the paper reports that an award-winning festival that celebrates Lough Neagh has been cancelled after funding was pulled.
The River-to-Lough event had been running since 2013, but is no more after Tourism NI denied financial help.
Someone else out of pocket is a Cookstown driver who has had a claim for compensation turned down over damage to his car caused by a pothole.
The Mid-Ulster Mail reports that the hit out at the Stormont department that denied his claim, with the paper reporting that, under Department of Infrastructure rules, the pothole would've been repaired in a week if it was on a busier road.
There's more road rage in the Impartial Reporter - or should we say road-sign rage.
According to the paper, four signposts along the A4 with crossroad names, such as Moane's Cross and Gardiner's Cross, have been removed.
And locals are, uh, a little cross about it (...sorry).
Councillor Sheamus Greene said Transport NI had told him that its policy was when "renewing signposts they will now remove crossroad signs".
"Nowhere did it say that, where the names are already on signposts, that they should be removed. I am totally baffled," he adds.
Transport NI has said it'll be meeting councillors next Tuesday to point the way forward.
On a grave note, the Derry Journal reports that the search is on for a site for a major new cemetery in the Maiden City.
More than 75,000 people have been buried in the historic City Cemetery since it was opened in 1853 but it'll have reached its capacity within seven years.
And on a similar theme, the Lurgan Mail speaks to one young County Armagh who's made an unusual career switch from a job in retail jewellery to a world of cemeteries and funerals.
Jonny Drury's 'Grave Keeping' project aims to help people who are short on time maintain the resting sites of their loved ones.
"I fancied the outdoors and enjoyed gardening, so I saw a gap in the market and bought the necessary tools to get going," said the 21-year-old.