West Belfast GAA clubs hit by 'recreational vandalism'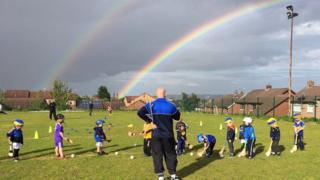 Hundreds of young players could miss out on trips to competitions due to "recreational vandalism" at their west Belfast grounds, a GAA club has said.
Officials at O'Donovan Rossa GAC say they cannot afford to keep replacing windows and fencing which are "constantly" being damaged.
Concerns have also been raised after evidence of night-time drug use on the Shaws Road site.
Two other clubs, Sarsfields and St Paul's, also use the same large site.
They have said they are facing similar problems.
"Recreational vandalism - there's no other way to describe it and these people have no social compass whatsoever," said O'Donovan Rossa trustee Joe McCormack.
"It's causing enormous difficulty to the three clubs that share this rather large site.
"We've got to really stand up to this, because this has the capacity to do enormous damage to the clubs involved."
The three clubs affected have a combined membership of about 1,000 people, hundreds of them children.
O'Donovan Rossa chairman Liam McAuley said: "We have a maintenance guy constantly running up here with a welder, replacing railings, replacing gates - it's just an endless battle and it's money we just can't afford to be spending.
"In a weekend in June we take our kids to Kilkenny to represent Antrim in the all-Ireland feile.
"It's a competition that kids will remember for all their lives.
"If this crime continues we are fighting to participate in those sort of competitions - we don't have the money."