Teacher scheme legal challenge dismissed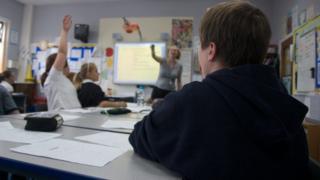 A legal challenge against a scheme to replace older teaching staff with newly-qualified teachers has been rejected at the High Court.
A judge ruled that the terms of the Investing in the Teaching Workforce programme were lawful.
The Department of Education said it would now restart the scheme "as soon as possible".
The scheme aimed to allow up to 120 teachers over the age of 55 to retire early in 2016/17.
They were to be replaced by teachers who had graduated since 2012.
However, the scheme was suspended in March after a teacher launched a legal challenge.
Dylan Early, 36, from Strabane, County Tyrone, claimed he was being unlawfully excluded from applying for any vacancies in the scheme because of his greater experience.
Since qualifying in 2009, Mr Early has worked almost continuously in temporary positions.
'Pleased' with ruling
The court ruled that the scheme was a "proportionate means of achieving a legitimate aim".
The judge said that any indirect discrimination against Mr Early was justified by the scheme's goal of providing opportunities for newly-qualified teachers.
He added that he was satisfied that the Department of Education had established that "there exists a real need to promote access to employment for younger graduates in the teaching profession".
The Department of Education said that it was pleased with the ruling.
"We will bring forward proposals for the implementation of the paused scheme and the progressing of conditional offers already made to teachers as soon as possible," it said.
Lawyers for Mr Early had argued that the scheme discriminated on the grounds of his age and experience.
They also said that it was a cost-saving programme that should be quashed.
They said that Mr Early, as a more experienced teacher, was on a higher-pay scale and that schools would be deterred from hiring him if the scheme was extended to teachers who qualified before 2012.
The Attorney General, John Larkin QC, representing the department, said that the scheme was rational, time-limited and a reasonable attempt to refresh the workforce.
In ruling on the case, the judge said that the initiative would create 120 jobs, while 450 permanent positions become available each year.
"He (Mr Early) is not losing his employment as a result of this scheme and opportunities to apply for full-time positions will remain open to him," he said.
The scheme was originally announced in 2015 by then education minister John O'Dowd, but was delayed due to lack of agreement over the criteria, including the definition of the term "newly-qualified".
His successor, Peter Weir, announced a revised scheme would go ahead in June 2016.