Belfast City Council proposes Irish language officer in consultation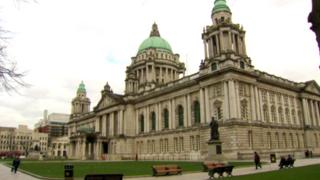 Belfast City Council is asking the public to share their thoughts on how best to incorporate Irish, Ulster-Scots and other minority languages into its daily business.
A consultation starts on Tuesday and runs for eight weeks.
It proposes the appointment of an Irish language officer, as well as policies centred on the promotion of Ulster-Scots and other minority languages.
Dr Lorraine Dennis from the council said diversity needed to be recognised.
"There's actually 70 different languages spoken in the city of Belfast," she said.
At the weekend, thousands of Irish language activists attended a march and rally in Belfast.
They called for the introduction of laws which would give Irish equal status with English.
They walked along the Falls Road into the city centre, before holding a rally in front of Belfast City Hall, home to the council's debating chamber.