Caitlin White: Funeral Mass held for teenager in Newry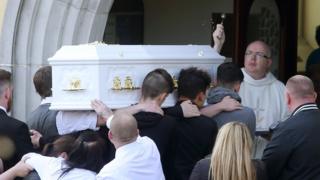 A priest has encouraged young people to avoid anything that harms them, as he spoke at the funeral of a girl who died in a suspected drugs-related incident.
Fifteen-year-old Caitlin White died in hospital after she was found unconscious in Portadown on Saturday.
The cause of her death is not yet known, but police say a link to drugs is one line of inquiry.
Speaking at her requiem Mass on Wednesday, Fr Damien Quigley told teenagers to take care of themselves.
"The greatest testimony that you can give to Caitlin is to celebrate the life you have been gifted, to turn away from anything - or anyone - that might harm that life," he told mourners at the Church of the Assumption, in Newry, County Down.
He added: "To her friends, I'm going to ask you to do her family a favour.
"Every year, celebrate Caitlin's life, not on the anniversary of her death, but on the anniversary of her life - 16 October - her birthday."
Caitlin, who was a pupil at Craigavon Senior High School, had grown up in Newry before moving to the Portadown area.
Pupils from her former primary school formed a guard of honour outside the church at the start of the service.
Her family and friends wept outside the church when her white coffin arrived.
Three male teenagers, arrested in the wake of her death, have been released on police bail.