Boy stable after Shankill bonfire site incident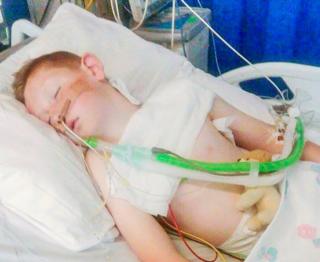 A nine-year-old boy who had been critically ill after coming into contact with toxic chemicals dumped at bonfire site near the Shankill Road in Belfast is now in a stable condition.
Police have been clearing the scene at Glenwood Street after drums containing a substance were dumped at the site.
Cameron Dickson had been in intensive care in hospital for four days.
Cameron's parents, Harry and Rhonda Dickson, said he was lucky to be alive.
They said on Thursday that his condition had improved in the past 24 hours but he was not yet out of danger.
Delayed symptoms
The family have called on whoever was responsible for dumping the chemicals to come forward and apologise.
Police are investigating and said they were concerned that a number of other young people in the area may also have come into contact with this substance.
Officers warned it could take up to 36 hours for symptoms to become apparent.
The symptoms could include redness of the eyes, sore throats, coughing and breathing difficulties.
Mr Dickson said he mistakenly believed his son was suffering from a chest infection.
He said he did not realise how ill Cameron was until a family friend pointed out that his symptoms were abnormal.
"I was just being a typical parent, dad - 'he's a boy, he's got a chest infection, everybody gets a bug'."
Mr Dickson paid tribute to their friend for spotting the danger, saying: "Only for her, I honestly believe that we would be burying our son."
Mrs Dickson said the experience had been a "total nightmare".
"I just hope they get whoever it was that was dumping the stuff."
In a statement, Supt Andrea McMullan said: "I would encourage anyone who has concerns about their children to seek medical advice immediately,"
"Any clothing or skin that may have been exposed should be washed to remove residual chemicals that may be left on them."
Insp Laura Kelly said: "We received a call from a member of the public earlier today, who was concerned that their young son, who is currently receiving treatment in hospital, may have come into contact with some sort of substance at the bonfire site.
"We immediately began an investigation into this incident and are working with our Fire and Rescue Service colleagues and partner agencies to identify the source of these containers and have them safely removed."
Bonfires are a long-held tradition in loyalist communities across Northern Ireland, and they are lit on 11 July every year to mark the anniversary of the Battle of the Boyne.
Many children and young people spend months gathering wood, rubbish and other materials to build bonfires on waste ground within their communities.
Community worker Steven Pollock said asbestos had been dumped at a bonfire site nearby last year.
"We had the same thing last year only a couple of hundred metres from here where they were illegally dumping asbestos," he said.
"People just see it as an opportunity and it's generally not people from the area. They come to our area just specifically to dump their rubbish or whatever it is they want to get rid of."
Cameron Dickson is being treated in the Royal Belfast Hospital for Sick Children where he remained critically ill, a Belfast Health Trust spokeswoman confirmed on Tuesday afternoon.