Manchester attack: Cookstown man injured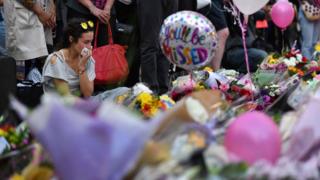 A County Tyrone man was among those injured in the Manchester bombing.
Tommy McCollum, who is originally from Cookstown but now lives in England, was picking up his stepdaughter from the concert targeted by a suicide bomber.
Councillor Trevor Wilson, speaking on the family's behalf, said Mr McCollum sustained shrapnel wounds and had undergone an operation.
The Mid Ulster councillor said the family were "very hopeful that he was on the road to recovery".
Mr Wilson said the stepdaughter had not been hurt but would, no doubt, be affected by the trauma of the attack.
"His brother is with him (Mr McCollum) in England," he said. "The family is in a state of shock. The parents are very worried and all they are praying for is a full recovery."
Monday night's attack at the Manchester Arena killed 22 people - including children - and injured 64.
Eight men are now in custody following the attack, carried out by suicide bomber Salman Abedi.