Virtually no risk of BSE in Northern Ireland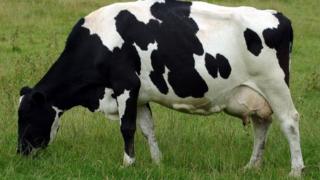 Northern Ireland's beef industry has been given a big boost with the region's approval as an area of negligible risk for Mad Cow Disease.
Northern Ireland has not had a case of Bovine Spongiform Encephalopathy (BSE) since 2012.
It has been linked to a potentially fatal brain disease in humans who consume infected meat.
The World Organisation for Animal Health approved "negligible risk status" for NI at a meeting in Paris.
Chief Vet Robert Huey said it was a "significant achievement" which had been many years in the making.
£12m of markets
He put it down to efforts by beef producers, meat companies, vets and government officials who had worked together to stamp out the disease.
The government has had a system of livestock, food and animal feed controls since the late 1980s which have been effective in controlling the disease.
Deputy President Victor Chestnutt said it could help open markets in China, USA, Japan and the Philippines worth an extra £12m a year.
Conall Donnelly of the Northern Ireland Meat Exporters' Association also welcomed the news.
"This will pay dividends in terms of our international reputation and will be a significant factor in helping to further develop our access to global markets," he said.
The outbreak of BSE led to the removal of older cattle from the food chain, a greater burden of regulation on the feed and food chain and the 1996 beef export ban.
Negligible risk is defined as an area where there are sufficient surveillance and controls in place to determine that either:
There has never been a case of BSE reported, or
Any BSE case reported was imported, or
The latest date of birth of a positive BSE case has been at least 11 years ago
The Department of Agriculture Environment and Rural Affairs applied for negligible risk status in 2016.