Warmest day of the year recorded in NI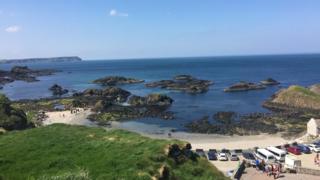 Thursday was the warmest day of the year across Northern Ireland, and Friday is set to be even hotter.
A high of 25.8C was recorded at Magilligan in County Londonderry on Thursday, but that is likely to be surpassed in the west and north.
The record for May in Northern Ireland is 28C which was recorded on 31 May 1997 at Knockarevan in County Fermanagh.
The average maximum temperature for this time of year is about 16C or 17C.
BBC NI weather presenter Cecilia Daly says temperatures above 25C are quite rare and can be expected just once or twice every 15 years on average.
Now for the bad news - heavy rain will move north on Saturday, and when that clears it will turn much fresher for Sunday and Bank Holiday Monday with temperatures dropping back to the high teens.